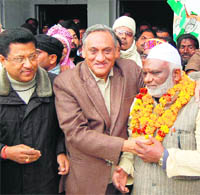 Hussain Ahmed, senior Samajwadi Party leader, being
greeted by Vijay Bahuguna, Congress MP
from Tehri, in Dehradun on Wednesday.
Dehradun, January 18
Senior Samajwadi Party (SP) leader from Uttarakhand Hussain Ahmed along with his supporters joined the Congress in Dehradun today.
Vice-president of the Uttarakhand Congress Suryakant Dhasmana welcomed Hussain Ahmed into the party fold and said his induction would benefit the party in the ongoing Assembly elections. He said there was an undercurrent in support of the Congress in the state. Congress MP from Tehri Vijay Bahuguna said Hussain's entry into the Congress was an indication of the growing popularity of the party among minorities. He said the Congress would form the next government in the state. Associate in-charge of the Uttarakhand Congress Anees Ahmed referred to the initiatives taken by the Congress-led UPA government at the Centre for the betterment of the minorities. Mohammad Saliq, Abid Ali, Mohammad Tazdin, Azam Ali, Wasim Ali, Subhash Kumar and Gokul Rawat were other prominent Hussain supporters who also joined the Congress.