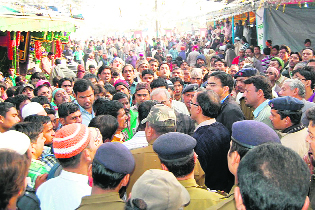 Local traders oppose the anti-encroachment drive near Piran Kaliyar shrine in Roorkee.
Haridwar, February 2
With the holy Urs at Sabir Pak Dargah in Piran Kaliyar witnessing influx of devotees from around the country and foreign shores, too, the district administration today carried out an anti-encroachment drive to make sure the congested paths leading to the holy shrine be made spacious.
As the Urs is held annually, and in view of the encroachment near the shrine and millions of devotees paying obeisance at the holy shrine, the administration carried out an anti-encroachment drive removing the encroachers who had illegally encroached on government land and market.
Heavy deployment of police personnel was done from administration side in view of the traders' resentment. As it turned out there was a major protest from the affected trader community, which termed the administrative action as uncalled for.
Traders also alleged that the police was harassing them by evicting them at a time when the holy Urs was reaching at its peak time. They were also of the view that they were in no way hampering the Urs preparations and were just only trading.
This created a ruckus as shops got closed and to prevent any clash, additional force was called on. Superintendent of rural police Roshan Lal Sharma and circle office Kamlesh Upadhyay carried out the anti- encroachment drive and also urged traders to abide by the law as it was only for the smooth conduct of the holy fair that the administration was carrying out the drive.
Traders also apprised City Magistrate Savin Bansal of their woes and urged him to make sure the encroachment drive gets stopped.
Meanwhile, in view of providing better convenience to the pilgrims, from Railway Department special arrangements have been done.
Now 14 trains will be making their stoppage for 2 minutes each till February 10 at Roorkee railway station. Station superintendent KS Gunjyal said that if the rush of the pilgrims increases, then from higher authorities of the department permission will be sought to operate special trains during this Urs tenure.
Notably organised in memory of renowned Hazrat Syed Alauddin Ali Ahmed Sabir Kaliyari, this Urs is the 743rd one and draws devotees from around the world.