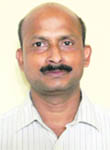 Man working for protection of elephants
Dehradun, January 21
In a state where man-animal conflict has been at its worst, Dr Anil Kumar Singh has done some sincere efforts for the cause of the wildlife conservation in the state.
The Coordinator and Head of the department in the Conflict Mitigation division of the Wildlife Trust of India (WTI), Dr Anil is widely recognised as one of the main persons behind complete eradication of elephant deaths due to train accidents in the elephant-famous Rajaji National Park, Uttarakhand. The railway track that criss-crosses the national park had earlier been a cause of several pachyderms' deaths in train-hit incidents. Dr Anil, by efficiently managing the train hits mitigation project of the WTI, succeeded in reducing the death rate to zero since 2001 through a coordinated approach with the state Forest Department and the Northern Railways. A wildlife biologist, Dr Anil has done post-graduation in Zoology from Bhagalpur University and a doctorate on 'Ecological investigations on human-elephant conflict in south' from Saurashtra University, Rajkot. He was selected as a Junior Research Fellow at the Wildlife Institute of India (WII) in 1995, following which he was associated with several research projects till 2001. These include restoration of corridor habitat in the western Terai Rhino Conservation Unit, comprising Dudhwa TR and Katerniaghat WLS in Uttar Pradesh, India, and Bardia National Park in Nepal and relationship between large herbivores, habitat and humans in Rajaji and Jim Corbett National Parks.
With over 13 years of experience in wildlife research and conservation, especially on the issues related to the Asian elephant, Dr Anil has been a member of several state government committees on wildlife conservation. He has served as a member of a 'Task Force' constituted for resolving elephant mortalities due to train hits in the Rajaji National Park and the Gujjar Rehabilitation Committee of the state government. Dr Anil has published several research papers, abstracts and technical reports on subjects ranging from elephant ecology, managing human-elephant conflict, use of GIS and Remote Sensing in wildlife management, elephant corridors, documenting elephant movement using radio telemetry, developing wildlife techniques and mitigation of elephant mortalities due to train hits.
In 2002, his paper won him the prestigious "Chaturvedi Award" for the most outstanding wildlife paper in 2002, published in the Indian Forester.
Currently serving as the Head of the WTI's Conflict Mitigation division, Dr Anil has also been working for the revival of Chilla-Motichur corridor. The corridor faces a lot of obstacles, including a human settlement and Dr Anil has been working round the clock to see that this key corridor gets secured. He has also been looking into the vexed issue of Gujjar rehabilitation. He is also working to replicate the Rajaji National Park's success of the train hit mitigation project in other elephant-range states.