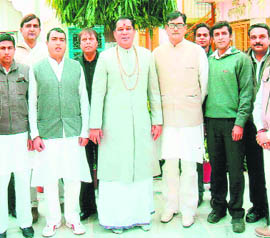 Chief and workers of the Samajwadi Lohiyawahini
Party, who joined the Congress in Haridwar
Haridwar, January 18
More than 50 workers of the Samajwadi Lohiyawahini Party joined hands with the Congress today. Welcoming them into the party fold, Uttarakhand Congress Committee treasurer Braham Swaroop Brahamchari said the Congress was the only party that catered to the needs of all segments of society.
State chief of the Samajwadi Lohiyawahini Party Amit Saxena who along with his supporters joined the party affirmed their faith in the Congress ideology.
From today itself, these new members began campaigning for Haridwar city Assembly segment candidate Satpal Brahamchari.
Saxena said they had mutually decided to be part of the Congress.
Brahamchari claimed that the Congress was the oldest party in the country that had played a pivotal role in the pre-Independence movement and every worker was treated equally.
Among others who joined the party are Amjad Ali, Iqram Siddiqui, Mohammed Kamil, Vijay Shahrwal, Rajeev Bharma, Kurban Ali, Mohammed Muqaram, Rao Sadakad, Manish Dhasmana, Rajendra Saini and Mohammed Islam.