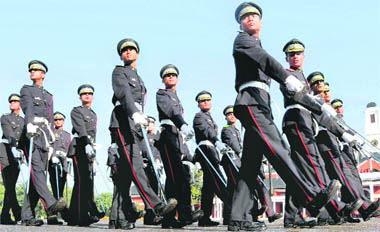 Ready to serve the nation:
Gentlemen Cadets take part in the passing-out
parade at the Indian Military Academy in Dehradun on
Saturday. A total 615 Cadets passed out to join the Army
as officers after completing their training.
615 Gentlemen Cadets pass out of IMA

Lankan army chief reviews parade

Sword of Honour for Gujarati cadet

A memorable day for many

Foreign cadets all praise for IMA instructors
Dehradun, December 10
Sri Lankan Army Chief Lieut Gen Jagath Jayasuriya has ruled out growing influence of China in the Indian Ocean as a threat to the Indian subcontinent. Interacting with mediapersons on the sidelines of the Indian Military Academy's passing out parade in Dehradun, General Jayasuriya termed as wrong belief that the growing influence of China in the Indian Ocean was a direct threat to India.
On the LTTE, Genaral Jayasuriya said the LTTE in Sri Lanka had been completely decimated but admitted that it's sympathisers did exist as international NGOs. "The LTTE has been wiped out militarily in Sri Lanka but the organisation still had supporters in the international Diaspora," he said. The Tamilian civilians uprooted from war-torn parts of Sri Lanka had started coming back to their homes and the Sri Lankan Government was undertaking rehabilitation efforts in the affected areas speedily.
Referring to Indo-Sri Lankan military ties, Jayasuriya said both the countries kept excellent relationship and a large number of Lankan officers had successfully undergone their training in India."Our friendship is increasing tremendously," the Sri Lankan General said.
A total of 150 Lankan army officers had so far got trained in the Indian Military Academy. Earlier, General Jayasuriya, while reviewing the passing out parade at the drill square in the backdrop of IMA's Chetwode Building, called upon the Gentlemen Cadets to develop excellent leadership skills and utilise them for the betterment of the nation. Emphasising on the importance of the IMA, he said the destiny of a country was shaped in educational institutions and training establishments. "It is widely accepted that our thoughts and actions are generally affected by the spirit of the place we live in. In your case each one of you would have been dominated by the spirit of the IMActhroughout your stay in this great institution," he said. He also presented medals to GCs, which included a sword of honour bestowed on Karan Kothari and a gold medal given to Abhijeet Singh for standing tall in the overall order of merit. A silver medal for standing second in the order of merit was given to Abhishek Chandra and a bronze medal for standing third in the order of merit was given to Amit Bijalwan. General Jayasuriya presented the Chief of Army Staff banner to Keren Company. A total of 615 Gentlemen Cadets and eight foreign Gentlemen Cadets from friendly countries passed out of the IMA.
They showed tremendous enthusiasmto put up an excellent parade before an august gathering.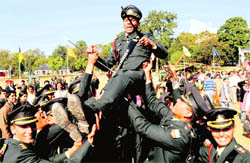 A Gentlemen Cadet being tossed in
the air by his colleagues
Dehradun, December 10
Son of Gujarati businessman has won the Sword of Honour at the IMA's autumn term passing out parade that took place today.
The prestigious Sword of Honour is presented to the Gentlemen Cadet standing the overall best among the passing out course Karan Kothari bagged the honour bringing cheers to the Kothari family hailing from Rajkot in Gujarat. Karan Kothari admits that Gujaratis are often inclined towards business rather than opting for defence forces but adds that someone has to make a beginning.
A proud father Kirti Kothari said he never imposed his wish on his son. "I had left to his son to make a choice of career. I am proud that my son opted for the Army and hope that he will prove to be inspiration for many more Gujaratis opting for a career in defence forces", he said. He said his son was the sole family member, who was now in the Army as he has none of his close or distant relative serving in the defence forces. Arvind Kothari, elder brother of Karan Kothari, said he was proud to see his younger brother in Army uniform. He said Karan from very beginning had made up his mind to join the Army.
"The family never forced their will on Karan nor asked to stick to the family business", he said.
"Even in the National Defence Academy, my brother bagged a Gold Medal in the training", he said, adding that his brother had always believed in excelling and that was the reason behind his good performances both in the NDA and the IMA.
A total of 5 Gentlemen Cadets from Gujarat have passed out in today's parade.
A memorable day for many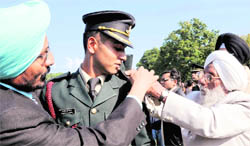 The father and grandfather of a Gentleman Cadet of the
Indian Military Academy remove the strap to show his
official insignia known as "Pipping Ceremony" after
the parade at the academy in Dehradun
Dehradun, December 10
For the passing-out Gentlemen Cadets of the Indian Military Academy and members of their families, it was an event they would remember for long.
A hotel management diploma holder from London, Mandeep Singh Nagra preferred the Army to other professions. Mandeep of Chandigarh has been deployed with the Artillery.
His father SS Nagra who is a bank officer said he was feeling proud seeing his son getting passed out of the IMA. "What satisfaction I am getting today as an Army officer would not have been possible had I opted for a profession in hotel management," said Mandeep.
Another Gentlemen Cadet, Shiv Pratap Singh Pathania, who passed out of the IMA has become the fourth generation Army officer in his family. His father Col SS Pathania hails from Kangra (Himachal Pradesh), his grandfather Subedar Malkiat Singh was with 13 Punjab whereas his great grandfather Risaldar Amol Singh was with 5 Horse. Colonel Pathania said he was happy that his son had continued with the great family tradition of joining the Army. He said his other son was undergoing training at the National Defence Academy.
It was a dream come true for Praveen Dhyani. A Doonite, Praveen grandfather Uma Dutt Dyani was with the Army Service Corps. Son of a civil defence employee, Praveen has been posted with 17 Jammu and Kashmir Light Infantry. A Keralite, Rajeev Ranjan, said he was happy to be part of the Army.
Another Gentleman Cadet, AS Toor, has been commissioned into the Artillery. Toor said it was a great moment for him.
Foreign cadets all praise for IMA instructors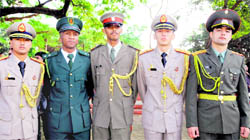 Foreign cadets who passed out of the Indian
Military Academy in Dehradun on Saturday.
Dehradun, December 10
Among the passing out candidates at the Indian Military Academy's parade were eight foreign cadets, who will now be part of the armies in their respective nations. These include three from Bhutan, two from Kazakhstan, one each from Tajikstan, Lesotho and Seychelles.
Bigabatov Rakhat hails from Kazakhstan. He said he felt proud to follow the footsteps of his father, who is a Colonel with the Kazakhstan army. Rakhat said the training he had received at the IMA would continue to inspire him for years. He said India and Kazakhstan always kept friendly relations.
Abzal Tashibekov hails from Rhymkent, Kazakhstan. An excellent academician, Abzal did his graduation from Miras University with distinction. He was all appreciation for the instructors at the academy for giving them the best of training.
K Muslikhidin from Tajikistan is a son of a pensioner. He has four brothers and one sister. Muslikhidin said apart from getting an honourable profession, he would now be able to support his family in a better way.
Lehloenya belongs to lesser known country of Lesotho. Son of a civil servant, Lehloenya has three younger sisters. He said it had been his wish to join the defence forces.
Wilven Anoy Jean from Seychelles found his stay at the academy as best part of his life. He had a lot of appreciation for the instructors at the academy.
Sangay Dorji belongs to Mongar in Bhutan. After doing his schooling from Thimpu, Sangay Dorji did his graduation from Maulana Azad College, Aurangabad, in India. Son of a farmer, Sangay said India had always been second home to him and asserted that India and Bhutan had a historical relationship.