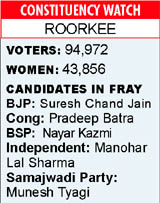 Haridwar, January 21
Well known for its educational and Army institutions like the Indian Institute of Technology and the Bengal Engineers Group, Roorkee is emerging as one of the hottest seats in Haridwar district in the Assembly elections.
Having a total of 94,972 voters, including 43,856 women, the constituency is totally plain and the smallest in Haridwar district. Thirteen candidates are in the fray with 85 per cent of voters falling in the urban region. During the last two Assembly elections since Uttaranchal was carved out of Uttar Pradesh as a separate state, Roorkee had been a fortress of the BJP, as party candidate Suresh Chand Jain had won from the seat consecutively in 2002 and 2007.
In 2007, Jain polled 41.82 per cent of votes defeating Congress candidate Furkan Ahmed while in the last elections he defeated Congress candidate Manohar Lal Sharma. Notably, in this elections the Congress has fielded Furkan Ahmed from Piran Kaliyar while Manohar Lal Sharma is contesting as an Independent candidate after he was denied ticket by the Congress. Hence, if Jain wins, he will have a hat-trick of victories from the seat. But this time the Congress has fielded a dynamic candidate in Pradeep Batra, who is the chairman of the Roorkee Municipal |Corporation.
Taking into consideration Batra's popular image among the youth and development-oriented working, Haridwar MP Harish Rawat especially lobbied for him for ticket. Development as well as making Roorkee a separate district is high on Batra's agenda, which is showing an impact on the voters. The recent rally of Congress president Sonia Gandhi had also generated some interest in the party in the region.
The BSP has fielded Dr Nayar Kazmi, a popular face, who is relying on the social engineering formula and charisma of Uttar Pradesh Chief Minister Mayawati. Mayawati is scheduled to address a rally in his favour in Roorkee on January 23.
Independent candidate Manohar Lal Sharma has made the contest triangular. A veteran Congress leader till he was denied ticket, Manohar Lal Sharma has a good rapport with the people and is likely to affect the Congress vote bank, benefiting the BJP.
Other prominent candidate in the fray is Munesh Tyagi of the Samajwadi Party, while Bharat Bhushan Kalra, another Independent candidate, is disturbing the calculations of all major candidates.
Besides the separate district status, there are the issues of roads, a drainage system, better civic facilities and a good railway station and a bus station in the city.