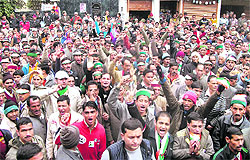 Congress leaders managed to win over
dissidents and present a united front
Virendar Rawat extends support to Manmohan Singh Mall
Mussoorie, January 14
Congress leaders managed to win over dissidents and present a united front at a meeting held at Nainbagh here today.
Congress nominee from Dhanaulti Manmohan Singh Mall, who arrived here early this morning, inaugurated the party election office at Nainbagh and later offered floral tributes to late party leader of the region Sardar Singh Rawat.
The Congress workers, who had gathered in a large number in Manmohan Singh's support, resolved to fight the elections unitedly.
A senior Congress leader, Dr Virendar Rawat, son of Sardar Singh Rawat, who lost the race for ticket to Manmohan Singh, said his well wishers were saddened by the denial of ticket to him as they wanted a candidate from the Nainbagh region to represent them in the Assembly. Though many suggested to him to fight as an Independent candidate but he refused.
Virendar Rawat announced his wholehearted support to Manmohan Singh amid cheers from party workers. He said he was with the people of the region and could not think of weakening the Congress by contesting as an Independent candidate. Therefore, he extended support to Manmohan Singh in the elections from Dhanaulti.
An emotive Manmohan Singh said the Congress was united and all party workers were keen on strengthening the hands of the leadership so that the state could set on the path of development once again.
Party workers looked happy at the outcome of the meeting and Virendar Rawat's support to Manmohan Singh gave them the hope of the Congress winning the elections from Dhanaulti.