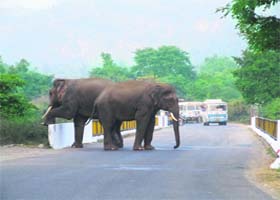 Elephants strolling on the highway on the
Rishikesh- Haridwar highway.
Dehradun, January 19
The Uttarakhand political parties may have given a little space to man-animal conflict issues in their respective manifestoes but for people living in both hill and plain areas of the state, the issue holds paramount importance.
The Uttarakhand BJP government had some time back given special instructions to ensure timely payment of ex-gratia to kin of those killed in wildlife attacks apart from compensation to those injured or whose crops had been damaged by wild animals. Leopard attacks have killed a large number of people in the state and so have the marauding elephants. There have been instances when people have burnt leopards alive and poisoned elephants in frustration. Villagers also have to bear economic losses due to abandoning of agriculture.
Interestingly, wildlife issues have seldom got prominence in the poll agenda of political parties in the state. Manifestos of major political parties of the state, the BJP and the Congress, have hardly come out with policy or programmes linked to man-animal conflict. The regional party, the Uttarakhand Kranti Dal, has been frequently raising man- animal conflict issues but the party representation has been minimum in the state Assembly and that's why they have never been in a position to implement its programmes.
According to the Uttarakhand Wildlife authorities' figures, during the past 10 years, wild animals have killed more than 300 persons and injured over 800 persons. Out of these, leopards killed 200 persons and injured 356 whereas a total of 80 died and 63 were injured in elephant-attack cases. Similarly, bears killed 13 and injured 368, tigers killed 10 and injured 19 while wild boars killed two and injured five persons in the past decade.
While the department acknowledges that the rise in human-wildlife conflict is causing the affected people to develop a hostile attitude towards the wild animals, parties in power have seldom taken the remedial measures. Even the rising problem of monkey menace that has now reached urban centres has found no solution. The state Forest Department has proposed to establish a monkey rehabilitation centre but the project is still to see light of day.
The compensation paid to persons suffering damage from wildlife has been doubled as a result of which the department now pays 1 lakh to the family members of an individual killed in conflicts between wild animals and man. The payment of compensation has also been decentralised up to the divisional level in addition to which order passed by the state chief wildlife warden that has empowered divisional forest officers under the Wildlife (Protection) Act, 1972, Section 9, to get rid of wild boars and blue bulls which have been marked as wild animals causing destruction of crops.
But political parties are still to come up with harsh reality of man-animal conflict and not taking up the issue on their priority list.