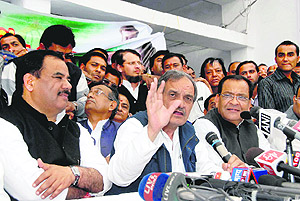 Birender Singh, Congress general secretary and in charge of state affairs, addresses a press conference in Dehradun on Friday.
Dehradun, March 9
Birender Singh, Congress general secretary and in charge of the Uttarkhand party affairs, has said that any capable leader of the Congress whether a Member of Parliament or a legislator or from even outside could be chosen as the Chief Minister of the state.
Addressing mediapersons after parading party legislators before state Governor Margaret Alva, Birender Singh claimed that three Independents and the lone Uttarakhand Kranti Dal (P) legislator had decided to support the Congress government without any pre-condition.
"All these legislators and the Uttarakhand Kranti Dal (Panwar faction) have decided to join the Congress government to strengthen the secular forces in the state for the overall development of the state," he said.
He further announced that Union Minister of Health and senior party leader Ghulam Nabi Azad would be coming to Dehradun on Saturday to ascertain the views of the party legislators on the issue of leadership of the Congress Legislature Party (CLP).
"After ascertaining the views of the legislators, he will convey the same to the party president Sonia Gandhi so that a decision could be taken," he said.
Birender Singh said the views of the Independent legislators and the UKD (P) would also be considered on the issue.