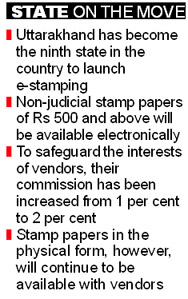 Dehradun, March 2
Uttarakhand today became the ninth state in the country to launch e-stamping. From now, non-judicial stamp papers of Rs 500 and above will be available electronically. For simpler, faster and transparent process of paying stamp duty, the government of Uttarakhand has tied up with Stock Holding Corporation of India Limited (SHCIL), which has been authorised by the Centre to introduce e-stamping in the country. In the first phase, it is being introduced in Dehradun, Haridwar, Udham Singh Nagar and Nainital.
During the inauguration of the service, Alok Jain, Additional Chief Secretary (Finance), said it would help the government keep an eye on the black marketing of stamp papers that were required for rent agreements, property registration and all kinds of affidavits. "E-stamping is a part of the e-governance initiative introduced by the state Finance Department. It is a moment of happiness that we have been able to introduce this service in our state despite opposition from certain quarters," said Jain.
However, he said stamp papers in the physical form would continue to remain available with vendors in the state. "To safeguard the interests of vendors, we have increased the commission of vendors from 1 per cent to 2 per cent," Jain said.
There are over 70 registered stamp vendors operating in Dehradun. Various licensed stamp vendors purchase the papers on a day-to-day basis and on a given day, the total business incurred from the sale of stamps is Rs 25 lakh.
The benefits of e-stamping are it is a tamper proof and the authenticity can be checked through an online receipt with a bar code that the sub-registrar's office would be able to authenticate.
The SHCIL will be starting operations in Dehradun from the District Treasury, SHCIL branch, on Rajpur Road and four branches of Punjab National Bank ie Race Course, Indira Nagar, Kaulagarh and Asley Hall.
The state government has also roped in 45 branches of PNB in these districts through which e-stamping can be sold.