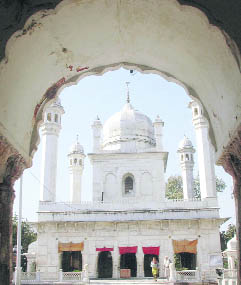 Guru Ram Rai Darbar in Dehradun.
Flag to be hoisted on March 12
Dehradun, March 4
Preparations are in full swing for the Jhanda Mela that will take place five days after Holi when the flag will be hoisted on March 12 at the historic Darbar Sahib, the seat of Guru Ram Rai, to mark his birth anniversary.
In keeping with the tradition, Dr Arun Dhoop, a devotee from New Delhi, will offer Darshani scarf at the Jhanda Mela that will be unfurled on March 12.
"My mother had made the booking some 20 years ago after a wish fulfilment and now our turn has come. Sadly my mother is not alive. I, along with my family members, would do the honours," said Dhoop.
Though initially Jasbir Singh Saini of New Delhi was to present the Darshani scarf, he expressed his unwillingness to take the journey due to ill-health.
The management of Darbar Sahib has already made bookings for the Darshani scarf till 2030.
Altogether 20 persons will be tying the satin scarf (the second cover). They hail variously from different parts of the country. "The muslin covers are brought by devotees and they stitch them here, while the Satan and Darshani covers are arranged by the shrine authorities for which a token amount of Rs 5,000-8,000 and Rs 10,000 for the Darshani covers are paid by the devotees ," said BP Saklani, manager, Shri Guru Ram Rai Darbar Sahib.
Significantly, this year the staff too is new. The pillar of the scarf would be 87 feet; the previous pillar, which would be brought down, was 93 feet. The pillar of the flag is changed after three years.
Pilgrims from neighbouring states of Punjab, Haryana, Himachal Pradesh and from abroad are expected to participate in the mela.