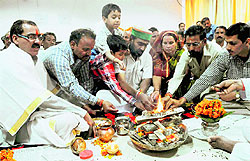 Dehradun, March 23
Being the first day of the auspicious Navratras, newly appointed Cabinet Minister Amrita Rawat today took charge of her Vidhan Sabha office and performed a hawan.
Amrita Rawat, who was greeted by the Vidhan Sabha staff on her new assignment, reiterated her pledge to work for the betterment of society. She laid emphasis on the formulation of schemes that helped in empowerment of girl child. Amrita called upon the employees to develop a new work culture.
Other Cabinet Minister Surendra Singh Negi and Mantri Prasad Naithani too reached their respective Vidhan Sabha offices and performed special worship. Surendra Singh Negi said he was taking the Cabinet Ministership as part of his commitment to work for welfare of people of Uttarakhand. Mantri Prasad Naithani said he would work to ensure all round development of Uttarakhand.