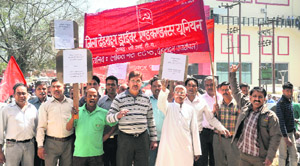 Dehradun, March 20
In protest against the proposal to made compulsory a refresher course from the Institute of Driving Training and Research for the renewal of driving licence, members of the Driver-Conductor Union of Dehradun staged a demonstration in front of the Transport Office today.
Union president Satish Kumar said to get driving licence, the authorities had already made compulsory getting a certificate from a driving school. There was no need for further refresher course for the renewal of licence. The move only aimed at harrasing drivers, he alleged.
He said they had written to the Transport Commissioner and the Principle Secretary (Transport) in this regard in February as well as March 10, but they had not released any order to withdraw the proposal. He further said if the authorities failed to withdraw the proposal by April 5, they would intensify the agitation.