Dehradun, March 20
Governor Margaret Alva today administered the oath of office to a 10-member ministerial team of Chief Minister Vijay Bahuguna, two of whom are from parties extending support to the Congress and two are Independents.
The swearing-in ceremony of the Council of Minister took place after more than an hour's delay. It is learnt that an Independent and Congress rebel Dinesh Dhanai had created a ruckus at the Bijapur Guest House for keeping him out of the Cabinet. Dinesh Dhanai, MLA from Tehri, had earlier courted controversy first declaring his intent to vacate his Tehri Assembly seat for Bahuguna and later backtracking from the statement. He had also failed to turn up for the filing of nomination of the Congress candidate for the Rajya Sabha seat yesterday. Among the four Independents that have extended the support to the Bahuguna government, only Harish Durgpal and Mantri Prasad Naithani have found a place in the 10-member Cabinet.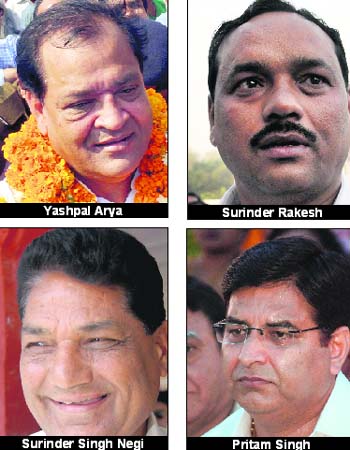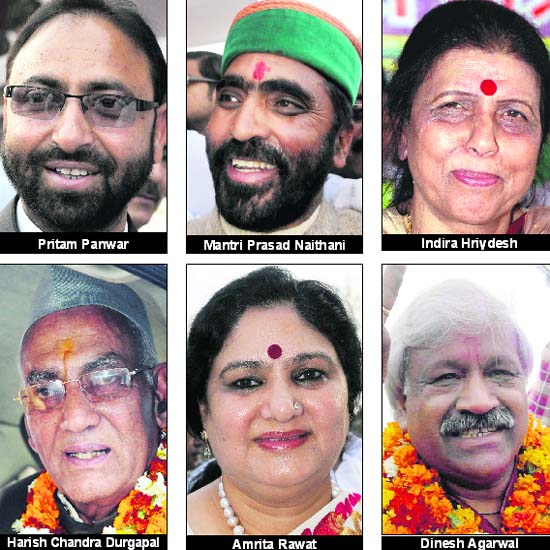 The first to be administered the oath of office was Dr Indira Hridyesh, who was the number two minister in the ND Tiwari Cabinet. She was followed by Yashpal Arya who is also Uttarakhand Congress chief, Surinder Singh Negi, Pritam Singh, Amrita Rawat, Dinesh Agarwal, Mantri Prasad Naithani,(Independent) Pritam Panwar (UKD), Harish Chandra Durgapal (Independent), Surinder Rakesh (BSP).
"In the coming days, we will fill all remaining posts and the Congress government is committed to giving good governance to the state," said Bahuguna. At one level, the usual formula of balancing the ministry by giving equal representation to all districts of the state seems to be missing. Bahuguna was made to walk the tight rope due to the compulsion of the mandate. While the heavyweights Indira Hriydesh, Dinesh Agarwal, Pritam Singh and Yashpal Arya managed to find a place in the Cabinet, senior Congress leader Navprabhat and Rajender Bhandari and Govind Singh Kunjwal were not so lucky.
"Our hands are tied due to the compulsion of the coalition and keeping everybody happy will be a challenging task. We have come to power after five years. The expectation among the elected Congress MLAs is understandable," said Yashpal Arya, a Cabinet Minister.
Interestingly, along with Independent MLA Dinesh Dhanai, Rajender Bhandari of the Congress too seemed miffed for being left out of the Cabinet. He was the Cabinet Minister in the BJP government, but prior to the 2012 elections he had joined the Congress. Significantly, the Cabinet comprises two women members, one member each from the SC (Yashpal Arya) and ST communities (Pritam Singh). However, member from the Muslim community could not find a place. Among the Congress leaders holding fort with senior leader Harish Rawat, Pradeep Tamta MP, Govind Singh Kunjwal and senior Congress Harak Singh Rawat were present on the occasion.