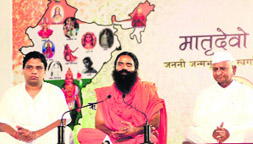 Acharya Balkrishan, yoga guru Ramdev and
Anna Hazare share the dais in Haridwar on Tuesday.
Announce to launch a joint fight against graft
In a bid to boost anti-graft and black money campaign, Gandhian Anna Hazare and Swami Ramdev have now openly announced their alliance in the "fight against corruption".
Both Anna and Ramdev came together on a platform at the Patanjali Yogpeeth here in Haridwar where in the presence of 5,000 women activists, both announced their fight against corruption that was deep-rooted in the system.
Yog guru Ramdev warned the Congress-led United Progressive Alliance government of a nationwide movement before the monsoon session of Parliament. He said a protest would be held for the Jan Lok Pal Bill and black money issues.
Baba Ramdev added that this agitation would be much stronger, as Team Anna and Bharat Swabhiman Trust activists would carry out agitation in the country jointly.
Anna Hazare, addressing a huge public gathering for the first time after recuperating from illness, stressed on the need of having a stronger movement for the Jan Lok Pal Bill, bringing back black money, having the right to reject option and making Parliament a place for only honest public representatives.
Hazare also mooted for 50 per cent reservation in Parliament for women only as, he said, in comparison to men they were less corrupt, be it politics or social life.
Further in memory of martyr IPS officer Narendra Kumar who was killed by the quarrying mafia in Madhya Pradesh, the duo of Hazare-Ramdev will sit on a one-day fast at Jantar Mantar in New Delhi on March 25.
Acharya Balkrishan, convener of the Bharat Swabhiman Trust, termed the day a historic one in India as now they would take respite only after making sure the Jan Lok Pal Bill was passed and black money stacked in foreign accounts was brought back.
On question of differences between the two mass leaders, Ramdev refuted any such claims. "We were together earlier too, be it at Jantar Mantra, Ramleela Maidan, the August 15 agitation or during the Jan Lok Pal fast observed by Hazare. It's just now we have openly joined hands to fight against the menace of corruption and those who try to shield it," said Ramdev.