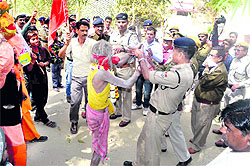 The police stops people from entering Maa Chamunda Devi temple situated in the Rajaji National Park in Haridwar on Friday. Tribune photo: Rameshwar Gaur

Haridwar, March 23
Despite resistance by devotees to reach the shrine of Mata Chamunda Devi, which is situated in the protected area of Rajaji National Park, the park authorities, personnel of the Forest Department and the district police did not allow them to enter the park area today.
Notably, on the pious occasion of Navratras during the past few years local residents had been trying to take out a Kalash yatra up to the Mata Chamunda Devi shrine in the park area, but the park and forest authorities did not allow them to enter the park, citing forest laws.
Local people under the guidance of saints have formed a forum, Mata Chamunda Devi Sangarsh Samiti, to ensure that they are allowed to visit the shrine in the park.
This morning the samiti members, led by Laxman Das Moni Baba, started moving towards the park to pay obesiance at the shrine. The police was present in strength there.
Tibdi Forest Range Officer Mahendra Singh Negi, accompanied by SHO PC Mathpal and other forest officials, was monitoring the situation.
He tried to convice the devotees citing forest laws that they could not be allowed to enter the park.
Negi and other officals tried to tell the samiti members that a large number of rare animals and plants were found in the park zone and the movement of people harm these species. Unless they had legal permission they could not be allowed to enter the park to pay obeisance at the shrine.
While enraged devotees tried to forcefully enter the park, a saint gave anxious moments to the forest and police personnel as he was adamant on paying obesiance at the shrine.
The devotees said there were temples in the forest areas elsewhere, it was here that they were barred from performing prayers at the Mata Chamunda Devi shrine.
Forest officials said even the Archaeological Department in its report had not mentioned that the park area had an ancient temple.