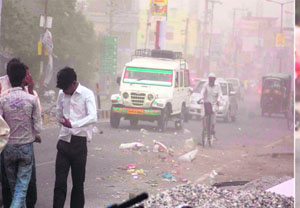 People caught in dust storm that
lashed Haridwar on Wednesday.
 Pithoragarh, April 11
A storm accompanied by hailstones in the district last night damaged 20 to 40 per cent of fruit and vegetable crops at various places, besides damaging 20 to 30 per cent of the standing rabi crop, district administration officials told this correspondent here today.
According to information received from the Baram valley of the Munsiyari region, 40 per cent of vegetable crops and the rabi crop was damaged by hailstorm last night.
"The storm arrived at lower valleys from the high Himalayan region at midnight, caused heavy damage to onion, peas, beans and other crops in the lower region and around the district headquarters," said RS Rana, district disaster management officer.
According to information received from Dharchula subdivision of the district, the electricity supply to Dharchula town and landline telephone services there were disrupted for 8 hours as the power line and the telephone exchange were hit by lightning.
In the Munsiyari area, Hira Devi became unconscious after she was hit by lightning while she was standing near her home. She was admitted to the district hospital. "Munsiyari town has been without electricity for the last 12 hours as the power line was damaged at various places due to the storm last night," said Gulab Singh Pangti, president of the Malla Johar Vikas Samiti.
In Pithoragarh town, fast winds blew off roofs of houses. The temperature in the town dropped 7°C below normal," said Rana.