Sikhs will be able to register marriages under 1909 Act
New Delhi, April 12
Sikh couples will soon be able to get their marriages registered under the Anand Marriage Act, 1909, instead of the Hindu Marriage Act, 1955.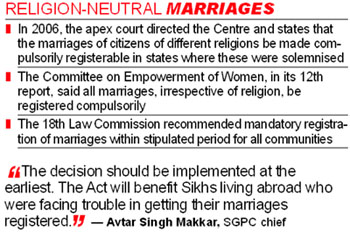 Accepting the long-standing demand of Sikhs, the Cabinet today approved amendments to the Anand Marriage Act, 1909, to provide for registration of Sikh marriages. A Bill to this effect would be introduced in Parliament when the Budget Session resumes later this month.
The Cabinet also approved the introduction of a Bill to amend the Registration of Births and Deaths Act, 1969, to include registration of marriages as well. The move aims at utilising the existing administrative mechanism to maintain marriage records on the lines of records of births and deaths.
The amendment would allow couples to get their marriages registered independent of their religion, though the option of getting marriages registered under the Hindu Marriage Act and the Special Marriages Act would continue.
Though the Law Ministry note in respect of this amendment talked of compulsory registration of marriages, HRD Minister Kapil Sibal clarified, "Those who wish can get their marriage registered under this new law. The issue of mandatory registration will be discussed when the Bill reaches the Standing Committee ."
After Parliament passes the amendment Bill, Sikh marriage certificates won't be issued under Section 2 of the Hindu Marriage Act (as is the case now). The Cabinet decision comes a year after the government decided to drop the proposal of amending the Anand Marriage Act and Salman Khurshid informed the Rajya Sabha of the decision.
The Tribune was the first to report the move on August 29, 2011, following which the Sikhs began fresh agitations for a demand that had once been approved by the Standing Committee on Law when Veerappa Moily was the Law Minister. But later the move fell flat.
Khurshid recently proposed religion-neutral registration of all marriages — a move which the Sikhs slammed. Former Chairperson of the National Minority Commission Tarlochan Singh wrote a protest letter to Law Minister Salman Khurshid, demanding amendment to the Anand Marriage Act and not a religion-neutral marriage registration law.
"This is the victory of Sikhs; we had fought for this right for decades," Tarlochan Singh said today. Akali Dal's Rajya Sabha member Naresh Gujral also welcomed the decision saying. "It's sad that Sikhs who sacrificed so much for the country had to feel alienated over such a small demand. We thank the PM and the Cabinet as this decision reassures minorities that their interests are protected. We want to congratulate Tarlochan Singh, former MP, who spearheaded the campaign in Parliament."
In the Cabinet, Information Minister Ambika Soni proposed that the amendment Bill be titled Anand Karaj Amendment Bill, 2012. This title is likely to be retained. So far, marriages amongst Sikhs, Hindus, Jains, Buddhists and other communities, except Muslims, Christians, Parsis and Jews, were covered under the Hindu Marriage Act.
Major step in recognizing Sikh identity
JALANDHAR: Not only has a long pending demand of the Sikh community, of recognizing their own marriage ceremony, been fulfilled with Union Cabinet's nod to Anand Marriage Act, but it has also come as a major step in addressing the issue of their search for an independent identity - which gained momentum some three decades back.
Even as the Sikhs had their own marriage ceremony, initiated by third
Sikh master Guru Amar Dass
, and is centered around their holy book Guru Granth Sahib, but their marriages were registered under Hindu Marriage Act. Apart from the issue of identity, this had also been creating problems for NRI Sikhs - who are estimated to be around five million across the globe.
"In our papers, we state our religion as Sikh but when our sons or daughters marry, they get the marriage certificate from the authority under Hindu Marriage Act. Members of our community have been facing problems due to this and would be at loss to explain this paradox even as the Sikhs don't consider themselves as part of Hindus," said Gurdarshan Singh Basra a UK-based NRI whose son recently married in Punjab. As Sikhs sought amendment in Article 25-B of the constitution - which clubs Sikhs, Jains and Budhists with Hindus - which was also a major demand of Dharm Yudh Morcha launched by Akali Dal and the demand epitomized by P S Badal tearing and burning this article in Delhi in early eighties. The demand for Anand Amarriage Act gained momentum in 2006, when Supreme court mandated registration of all marriages. The Sikhs' representative body, SGPC opposed registration under
Hindu marriage Act
and demanded that Anand Marriage Act be put in place. The clergy and Sikh groups then raised the demand for a separate marriage Act, after refusing to be clubbed under the Hindu Marriage Act.
Before that National Commission for Minorities Chairman Tarlochan Singh had started pushing papers in union government in 2003 but things would not move beyond a point. "Nod for Anand Marriage Act is meeting their rightful demand and is a major step in recognizing their independent religious identity which was ordained by the Guru himself. It is heartening that it is coming on the eve of Baisakhi when 10th Sikh master Gur Gobind Singh gave final shape to the formation of Khalsa Panth- an independent religious entity," said former IAS officer and prominent Sikh intellectual Gurtej Singh who had also contributed to the authoring of Anand Marriage Act passed by Pakistan.