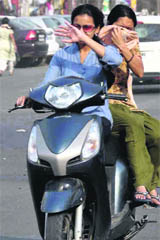 Two girls cover their faces to save themselves from dusty winds that hit Haridwar city. Tribune photo: Rameshwar Gaur
Haridwar, June 8
The city witnessed various moods of the weather - scorching sun, dusty winds, light drizzle and cloudy sky yesterday.
Early in the morning, a cool breeze greeted the residents but by noon, the temperature went up to 44°C, making it difficult for residents to venture out.
Then, late in the afternoon, dusty winds lashed the city uprooting many trees. Roads could be seen littered with branches, twigs and leaves.
The hoardings and tents - uprooted by the wind - hindered the flow of traffic at many places.
In the evening, a light drizzle in some parts of the city brought respite to the residents.
As soon as the weather became pleasant, local residents, pilgrims and tourists came out in a large number on the Ganga ghats and the Ganga canal walking stretch to enjoy the weather conditions.
Shikha Rawat, a student, said that she was surprised that the dusty wind, at the start of her banking coaching classes at Ranipur, had been replaced by a light drizzle by the time her classes ended.