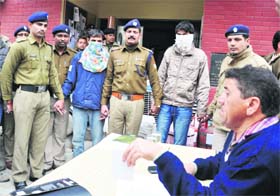 A gang of thieves nabbed by the Dehradun police.
Dehradun, February 5
The state police yesterday arrested two youths from Sahastradhara and Dehradun, who were involved in number of thefts in the region. Acting on a tip off, the Uttarakhand police intercepted the youths from the Sahastradhara road.
The youths, who were on a motorcycle, tried to flee from the spot but were apprehended by the police. On interrogation, the two were identified as Gaurav Chowdhary, a resident of Bagpat in Uttar Pradesh, and Mohit Kumar, a resident of Meerut. The two confessed of having committing number of thefts in Dehradun.