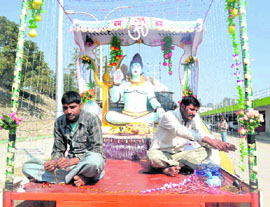 Kanwariyas from Gurgaon prepare an on-wheel kanwar in Haridwar on Friday.
Haridwar, February 10
With the completion of the Magh Poornima bath on February 7 and the festival of Mahashivratri coming on Feburary 20, kanwariyas have started coming to Haridwar for fetching holy Gangajal. Though the number is not large, still one can see saffron-clad kanwariyas with beautiful kanwars in their hands at Ganga ghats of Neel Dhara and Pant Deep.
Kanwariyas will start pouring in large number in the next few days as the Shivratri approaches near with kanwariyas from far-off places coming earlier.
One can see kanwariyas at Pant Deep, Laljiwala areas adjacent to Har-ki-Pauri, VIP ghat, Deen Dayal Upadhyaya multi-parking lot and other open spaces.
Like a group of kanwariyas from Manesar, Haryana, were seen giving final touches to their vehicle on which statue of Lord Shiva and shivlingams are placed.
Beautifully decorated, this kanwar takes almost two-day time and Rs 10,000.
Manoj Kumar, a kanwaria, said they got immense pleasure by coming to Haridwar at Har-ki-Pauri for fetching the Gangajal.
He said, "The hard work put up in decorating this kanwar bore fruit when people appreciate their kanwar,with people offering obeisance at Lord Shiva statue and chanting of 'Bam bam Bholey' reverberates throughout the route to Gurgaon which is almost 200 kilometeres," said Kumar. In the coming days, the kanwar market will also be set up at Pant Deep where decorated kanwars will be available for kanwariyas whose number touch lakhs.