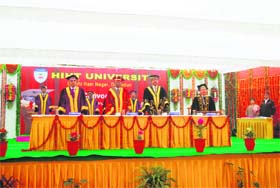 Dignitaries at the first convocation of the Himalayan
Institute Hospital Trust near Dehradun.
Dehradun, February 5
A total of 63 medical students of different streams were awarded degrees on the first convocation ceremony of the Himalayan Institute Hospital Trust (HIHT) here yesterday.
The chief guest on the occasion was Dr C Rangarajan, chairman, Economic Advisory Council to the Prime Minister. He inaugurated the event by lighting up the ceremonial lamp. Accompanying him was the Vice Chancellor of the HIHT, Dr Vijay Dhasmana.
Addressing the students on the occasion, Dr Rangarajan advised them to work hard for achieving their goals in life. He said, "The profession of a doctor is very respectful and dignified." Terming the students as nation builders, Dr Rangarajan appealed to the students to work hard for the betterment of society and the nation. The ceremony concluded with the vote of thanks delivered by Dr Dhasmana.