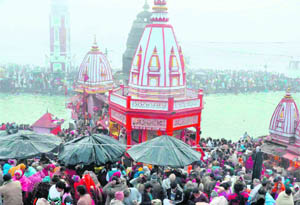 Devotees from various states take a holy dip in the
Ganga and offer prayers in Haridwar on Monday.
Haridwar, January 23
On the pious occasion of Somwati Amawasya, lakhs took a holy dip at Brahamkund, Har-ki-Pauri and adjacent ghats of the holy river Ganga.
Since the wee hours of the morning, devotees started thronging the Ganga ghats despite chilling, foggy conditions prevalent in the region.
But soon the foggy weather paved way for a bright sunshine, making the event more spiritual.
Devotees from various parts of the states took a holy dip and offered prayers to the Ganga and Sun God .
Pilgrims from Punjab, Haryana, Delhi, Uttar Pradesh and even far-off states such as Rajasthan and Bengal were seen in Haridwar.
In view of the festive bath, elaborate security arrangements were in place with the whole core mela zone of Har-ki-Pauri divided into five zones and 13 sectors.
Haridwar police chief Pushkar Sailal, city Superintendent of Police Dr Yogendra Singh Rawat and traffic chief Dr Kiran Lal Shaw monitored the whole day proceedings.
Nodal security officer Shahjahan Javed Khan said by evening almost a million took holy bathe in the Ganga and people were seen pouring in later.
In view of a heavy rush, the Railways and city roadways depot had put on additional coaches and buses to ferry the pilgrims coming from different party of the country.