Pithoragarh, January 25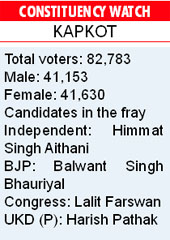 Affected by frequent landslides and glacial erosion in the world famous Pindari Glacier, the remote Assembly segment of Kapkot in Bageshwar district seems to be witnessing a battle between the supporters of hydroelectric projects and its opponents in the area.
Most of the locals are not in favour of these projects under construction in the area. They fear that these projects would not only destroy the ecosystem of the three main world famous glaciers of Pindari, Sundar Dhunga and Kafni but would also deprive the locals of their right on the rivers and glaciers.
Independent candidate from Kapkot Himmat Singh Aithani, said: "I am fighting the elections to save the Pindari Glacier. My slogan is 'Ab ki bari Him pindari'."
"If only gharats (water mills) of the area could be saved, we can give employment to 20,000 youths of the area," claims Aithani.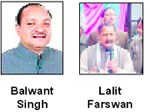 Kapkot has a total of 82,783 voters. The number of male voters is 41,153 and of female is 41,630. The number of voters in the region has increased after the Kanda seat too merged into this after the recent delimitation.
The BJP has fielded Balwant Singh Bhauriyal. He claimed that he had worked hard to develop the region in the past five years from the infrastructural point of view and also promoted local industries to give employment to the local youths.
"Today, for the first time in the history of Kapkot, local schools have teachers, " says Bhauriyal.
Congress candidate from the seat Lalit Farswan is also a Zila Panchayat member from the Kausani area. He said his first priority would be to stop migration from the area.
"We can stop the migration of the youth from the area by developing tourist infrastructure at the glaciers of Pindari, Sundar Dhunga and Kafni," says Farswan.
The Congress candidate claimed that the development agenda of the party was needed in the area as road connectivity to the region was very poor. "Due to the apathetic attitude of the BJP-led state government towards development, travel on 30-km road from Bageshwar to Kapkot takes two hours today as the road is full of the debris at many places," said Farswan.
UKD (P) candidate Harish Pathak is contesting on the local issue of the rehabilitation of all villages hit by landslides. "Forty two villages of the region have been declared as landslide-prone areas by geologists, who had been sent by the state government to survey the area. But nothing has been done so far," said Pathak.
On the other hand, locals say that they are facing a crisis that threatens their continued existence due to hydroelectric projects coming up in the area.
They said even Sumgarh village where 18 schoolchildren were buried alive under the debris 16 months ago owing to a landslide has not been shifted from the area.