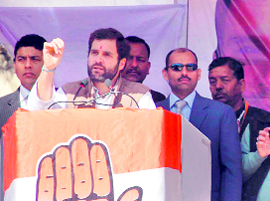 Congress general secretary Rahul Gandhi addresses
an election meeting at Pithoragarh on Tuesday
Pithoragarh, January 24
Congress general secretary Rahul Gandhi today appealed to the youth to come forward to participate in politics and change the present political system of the state according to the needs of the country.
"The present political parties are in no mood to change the system as they get benefit out of this outdated system. Therefore, the youth is the only hope," said Rahul Gandhi, addressing an election rally here today.
Rahul Gandhi launched a scathing attack on the BJP Government of the state by blaming it for corrupt practices in the last five years, including misuse of funds released from the Centre for the development of the state.
"During the last five years, BJP did not feel the need of Khanduri, as the government and its leaders were involved in corruption, but the party now needs Khundari as it has to hide corruption before being ousted from the government this time," said Rahul.
The Congress general secretary said that the Congress was a party of the poor of the country; it belonged to the poor, the backward classes, Dalits and minorities. It was also against corruption as the ministers
involved in corrupt practices have been jailed in Congress rule. "On the other side, the BJP gave shelter to its corrupt ministers in Karnataka, Punjab and in Uttarakhand and has now given shelter to corrupt ministers of Mayawati," said the Congress general secretary.
"if I share meals with Dalits at their homes, the BJP people object. But if they create the slogan of 'India shining' from AC rooms, they think it in positive tone for the country," said Rahul.
Rahul Gandhi said that it was the Congress which laid the foundation stone of development in Uttarakhand state as the people believed in it just after the state was carved out. "The party not only established industries in the state to give employment to lakhs of youths from the state but has now approved its linking with railway lines. "On the other hand, the BJP is always busy indulging in corrupt practices," alleged Rahul.
The Congress general secretary elaborated the achievements of the Congress at the Centre and said that it is the party totally devoted to empower the common people by providing security in their basic needs.
"After waiving Rs 60,000 crore loan of poor farmers of the country and empowering them, the party has brought MNREGA, right to education, and would now bring food security Bill to make the poor of the country free from the basic problems of life," said the Congress general secretary.