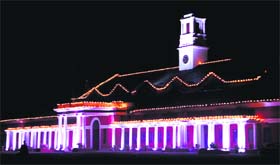 Dehradun, October 1
The Indian Military Academy (IMA) celebrated its 80th raising day amid pomp and show at the Khetarpal auditorium here today. The IMA came into existence on October 1, 1932, with 40 Gentlemen Cadets.
The academy was formally inaugurated by Field Marshal Lord Philip Chetwode, the then Commander-in-Chief of India, on December 10, 1932, with Brig LP Collins, as the first Commandant.
Lt Gen Manvender Singh, Ati Vishisht Seva Medal, Vishisht Seva Medal, Commandant, IMA, congratulated all members and their families. He said the IMA was not only a respected military institution but also abroad.
The Commandant gave away the appreciation certificate along with cash incentives to 39 civilian employees of the IMA for their sincerity and commitment towards the service in the academy.
In the past 80 years, the academy has grown from strength to strength and from 40 Gentlemen Cadets in 1932, the academy now trains around 1,900 Gentleman Cadets at any time. The academy has commissioned 52,219 Gentlemen Cadets as officers, including 1,397 Foreign Gentlemen Cadets from 30 friendly foreign countries. Besides training officers from foreign countries, the IMA has cadets exchange programmes with the United States, the United Kingdom, Australia, Thailand and Singapore.
The academy has a rich history and its alumni have excelled in all spheres of military activities. They have etched stories of their heroic valour in various battlefields throughout the world.
On the occasion, the members of the IMA also remembered and paid homage to the martyrs.
The ceremony was attended by several retired and serving officers from the state. Few of the ex-Commandants, including Lt Gen GS Rawat, Lt Gen Mathew Thomas and Lt Gen YS Tomar (retd), were also present on the occasion.