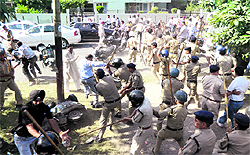 Dehradun, October 11
The Dehradun police today resorted to a lathi charge on VHP and Bajrang Dal workers after they forcibly tried to take possession of a house in Race Course locality of Dehradun.
According to police sources, Ravi Mittal and Mahendree Devi had a house at G 11 Race Course. Both Ravi Mittal and Mahendree Devi passed away some time back. Today, Subash Mittal, brother of deceased Ravi Mittal, who is a Deputy Director with the CBI, Delhi, reached Race Course in order to take the possession of the house. He was aghast to find a Bajrang Dal board at the house. The Bajrang Dal workers even manhandled Subhash Mittal and damaged his car, HR 26 BF 7200. Subhash Mittal reported the matter to the police.
SP, Dehradun City, Dilip Singh Kunwar, accompanied by a police force reached Race Course and tried to calm down things. But BJP MLAs Ganesh Joshi and Sahdev Pundir tried to argue from Bajrang Dal's side, whereas Congress MLA Rajkumar accompanied by other Congress workers came to Subhash Mittal's rescue.
The verbal duel between BJP and Congress workers turned into a full-scale scuffle, forcing the police to go for a lathi charge, resulting in minor injuries to a few persons.
Deputy Director, CBI, Delhi, Subash Mittal, said the Race Course house belongs to him and it was his paternal property. He also claimed possessing the papers of the property. On other side, VHP workers claimed that the deceased Ravi Mittal had donated the property to VHP.
Meanwhile, the district administration has sealed the property till further action.