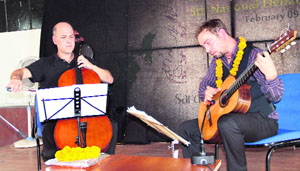 Gustavo Tavares from Brazil (left) and Anders Oien
from Norway perform at a Spicmacay programme
in Dehradun on Wednesday
.
Dehradun, September 19
In keeping with their desire to bring the artistes of western classical music closer to the young audience, Spicmacay (Uttarakhand) this time round has brought to Dehradun the Norwegian duo of Gustavo Tavares, a cellist player, and Anders Oien, a guitarist.
Both acclaimed artistes played samples of western classical music inspired by two Norwegian composers Edvard Grieg (19 century) and Kenneth Sivertsen ( 20 century).
Speaking with The Tribune at the end of their performance today, Gustavo, who is based in Oslo, said tours like these excited him as they exposed him to different cultures. "For half the year I play for Norwegian National Opera, and for the remaining period, I am free to experiment and do my own thing, which is basically music and more music," he said.
Despite performing for an audience with limited exposure to western classical music, Gustav struck a chord with them without compromising on the vocabulary or grammar of his music. " I do not compromise on quality of music or my own experience of music making. The standard has to be maintained at all costs," he said.
He was accompanied by guitarist Anders Oien, who learnt music at the Norwegian Academy of Music and is a classicist in his own right.
Both agree that music had no boundaries and musical tradition of the world was based on a set of expressions that were fine-tuned. Both the artistes gave a scintillating performance at Unison World School today.
They also performed at Doon School and Summer Valley Schools.
Simultaneously, Spicmacay also organised a Bharatnatyam dance workshop by Anuradha Venkataraman, who taught the students of Govt Girls Inter College (Rajpur Road) the basics of Bharatnatyam dance.
The dancer who learnt the art under guru Saroja Vaidyanathan for 15 years and has now taken up the job herself, said that the the guru-shishya parampara had kept alive the dance and musical legacy of the country. "This Indian tradition of holding the guru in high esteem is even prevalent abroad, and this was vividly brought out even by the Norwegian artistes," she said.
Anuradha Venkatraman also performed with the Norwegian artistes much to the delight of the audience.