Dehradun, March 12
A large number of devotees gathered at Guru Ram Rai Darbar to lift the 87 ft mast bearing the flag of Guru Ram Rai on the 336th birth anniversary of the saint today, thus signalling the beginning of Jhanda Mela. He had established the seat of the Udasin sect in Dehradun.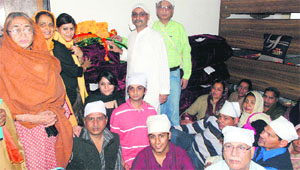 Dr Arun Dhup, a resident of Delhi, along with members of his family, who offered Darshani cover at Guru Ram Rai Darbar in Dehradun on Monday. A Tribune photograph
The credit for transforming the simple ceremony of raising the flag into an egalitarian and community show goes to Guru Ram Rai's wife Rani Punjab Kaur. Her liberal stance is reflected in the simple ceremony of offering covers that are wrapped around Jhanda Sahib winning over society's narrow mindedness and parochial urges.
"It is faith that brings lakhs of pilgrims to Darbar Sahib. The syncretism practised by Guru Ram Rai and Mahants draws pilgrims from all religions," said Devender Das, Mahant, Darbar Sahib, who presided over the ceremonies.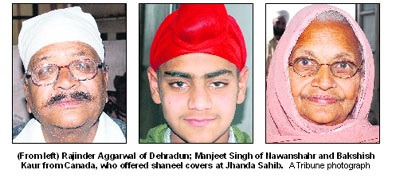 Since morning, a large number of men could be seen wrapping covers around the mast. The old mast that was removed lay on one side.
The dexterity of those involved in covering up the mast was there for all to witness as hundreds of hands balanced it. "A total of 20 shaneel covers, one darshani cover and 40 covers made of cotton clothe would cover up the mast. The pilgrims offer them as a gesture of thanksgiving and wish fulfilment," said BP Saklani, in charge, Jhanda Mela.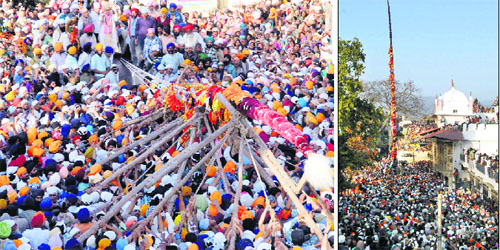 A large number of devotees thronged Guru Ram Rai Darbar on the occasion of the hoisting of Jhanda Sahib in Dehradun on Monday.
Interestingly, the old mast is never discarded but a portion of it is used to make furniture and windows at all Guru Ram Rai schools, colleges and institutions. Event the covers from the old mast are distributed among pilgrims. These are valued as prized possessions by the pilgrims who attach great value to them.
When Darbar Sahib opened its doors, every inch of space was occupied by pilgrims, who would stay here till March 14. "A round the clock community kitchen is running. All our needs will be looked after by the benevolent saint," said Tek Chand (65), a resident of Ambala.
The hospitality of the Darbar Sahib is legendary. Besides opening its rest rooms to the pilgrims, the schools run by the Guru Ram Rai Mission are also used for providing lodging to the pilgrims. On March 14, the sangat would be formally given a send off by Mahant Devender Das.