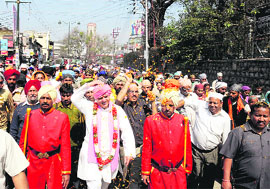 Mahant Devender Dass leads 'Nagar Parikarma' on the
concluding day of Jhanda Mela in Dehradun on Wednesday.
Dehradun, March 14
Following an old tradition set by Guru Ram Rai, Mahant Devinder Das of Darbar Sahib accompanied by his followers did the parikarma of the old city today and bid a farewell to the sangat that had come for Jhanda Mela.
The parikarma started from Darbar Sahib and after passing through Saharanpur Chowk, Kanwali Road, Clock Tower and Guru Ram Rai Public School, Bindal bridge, it culminated at Lakhi Bagh.
At Lakhi Bagh, Mahant Devinder Das paid homage to former Mahants.
After establishing his dera in Dehradun, Guru Ram Rai used to do the parikarma of the areas under his dera and also meet the people. The tradition continues to be followed even today. The group covered a distance of 10 km.
Later in the evening, Mahant Devinder Das gave a good send-off to the sangat with prasad and gifts.