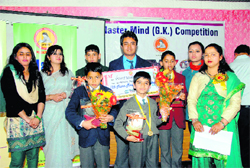 The winners of the Master Mind Competition in Dehradun on Sunday. A Tribune photograph
Dehradun, March 11
As many as 6,250 students from 115 schools across the city participated in the 12th Master Mind Competition held today.
It was organised by the Sajha Welfare Society. Of the 6, 250 students, 72 qualified for the final round.
Vinay Shukla, a student of Love Dale Academy, won in the the category of "Master Mind (senior) while Kinsak Negi, a student of Mount Font School, topped in the category of "Master Mind (junior).
Abhishek Tamola, a student of Glacier Academy, won the first position in the "Master Mind (sub-junior)" category, Pratik Badola of Sant Kabir Academy won in the category of "Master Mind (kids) and Shiv Malhotra of Stepping Stones School won the first position in the category of "Master Mind (Aryan)".
The prizes were given away by Health Director, SWS, Seema Verma and Chairman Pankaj Bhardwaj.
Verma appreciated the endeavours of the organisation and said by participating in such quiz competitions, students would be prepared for other competitive exams. Senior coordinator, SWS, Puja Bhardwaj said the organisation had been working in the fields of education, health and public service for the past 12 years.
She said they would soon hold "Super Mind Competition" in which teachers of city schools would participate. Besides, the organisation would also hold health camps in schools.
Mona Negi and Shailash Chander Godiyal played the role of quiz master and Reetu Anand, Mansi Barthwal, Megh Pandey and R Dhawan were the judges.