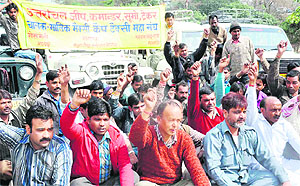 Members of the four-wheeler union of Haridwar hold a protest on Saturday.
Haridwar, February 25
With holy pilgrimage to four shrines of Uttarakhand — Shri Badri Nath, Shri Kedar Nath, Gangotri and Yamunotri — to commence from April,while on one hand Char Dham managing committee is busy in the smooth conduct of the pilgrimage, a demand is being made in Haridwar to make sure the pilgrimage gets operated from the pilgrim city of Haridwar rather than neighbouring temple town of Rishikesh.
This demand is being made by four-wheeler union of Haridwar, which states that apart from registration of vehicles going for Char Dham yatra, specific refresher course given to the drivers and joint rotation of yatra bound buses and taxis be also done from the city only.
Notably, since past few years,Char Dham yatra is being operated from Rishikesh where vehicles bound towards Garhwal hills for these four shrines are registered. Since then vehicle and tour operators from Haridwar have been demanding shifting of this process here itself.
Uttaranchal maxi-cab union of Haridwar unit has also staged a protest in this regard, blaming the current BJP- led state government for failing to take steps in this direction. Union chief Sanjay Chopra said that in 2004 the then Congress state government had passed a notification stating registration for Char Dham yatra be done from Haridwar itself.
Chopra pointed that registration being done in Rishikesh for this pilgrimage is not apt as Haridwar is the entry door to Char Dham and entry point of Uttarakhand, too.
Union members also demanded that the refresher course being done for Uttarakhand drivers should also include training in hill driving.
They warned that if their demand was not met, they will gherao the divisional transport office in interim capital Dehradun.
Among others who participated in the protest included Subash Aggarwal, Bhoopendra Rajput, Punit Chauhan, Gopal Kumar, Dinesh Kumar, Arun Aggarwal and Lal Bahadur.