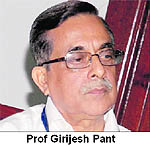 The man behind Doon varsity
Dehradun, December 10
Three years may be a short span in the life of Doon University which is slowly coming into its own after starting the first academic session in 2009. Envisaged as a centre of excellence, the university overcame a series of financial problems, even an existential question about its affiliation was deftly negotiated by Prof Girijesh Pant, Vice-Chancellor of the university.
Now with his three-year stint coming to an end in January next year, Prof Pant, also an expert in West Asian studies, feels that laying a solid foundation together with a distinct sense of identity is what he is set out to achieve for the university. "There is a sense of comfort but not yet full satisfaction with the way the university is shaping up. With the passage of time, it will become an asset to the nation and the state. Students from different states have already begun applying and will help us attract talent from far and wide, helping shape the cosmopolitan environment at the university which is vital for academic pursuits. The university should be able to build on the cosmopolitan culture that has been created," said Prof Pant The concept of visiting faculty was also started by Prof Pant to deal with the staff shortage at the senior level and action can be termed impactful. Yet he is not ready to add that many stars to his scorecard. "In its early days, we were not able to get senior faculty members of stature. Initially I thought, with Dehradun lying in the vicinity of Delhi, we will not have any difficulty but we faced many problems. Being a state university, we could not offer better packages," he said. As a matter of fact when Doon University was being planned, it was with the thought of developing it as a central university status but that was not to be.
"It would have been a good thing if the university was accorded the status of central university. A new state always finds it difficult to meet the financial demands of a university. I believe for establishing centres of excellence, one needs to make bold departures. Equally, one should not be shy of taking risks because the gains in the future are far too many. The attitude of justifying costs for the every penny spent on education is not a healthy sign and is detrimental to the future of centres of excellence. The optimal utilisation of funds may not work initially. In my view, the entire system of financing the higher education could be recast by exploring private partnership with the right checks and balances," said Prof Pant.
Away from the hurl and burly of the intellectual fervour of Jawaharlal Nehru University for the past three years, where he is expected to go back on completing his tenure here, Prof Pant hopes to resume his long discussion sessions with his colleagues and at the same time write a book for which he hopes to get enough time to think and plan. In his own way at the university he tried to ignite that flame of enquiry and discussion by organising lectures by scholars.