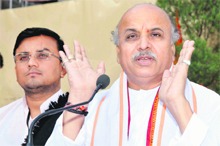 Praveen Togadia, international general secretary of VHP,
addresses a press conference in Dehradun on Tuesday.
Dehradun, December 6
Vishwa Hindu Parishad international general secretary Praveen Bhai Togadia has opposed the reservation for Muslims in the government jobs with the Other Backward Castes quota.
Addressing a press conference in Dehradun, Togadai said the Constitution does not allow reservation in government jobs on religious grounds. He said the Backward Caste Muslims were already getting reservation under the OBC category and thus there was no justification in providing separate 6 per cent quota within the 27 per cent quota meant for Other Backward Castes.
He said the VHP would not allow Muslims to take away jobs of the OBC peoples in the country. Togadia said VHP workers were ready to stage an agitation if the Congress-led Centre went ahead with its Muslim reservation agenda.
He pointed out that Hindu seers and saints would be meeting in Rishikesh shortly to chart out an action plan in wake of efforts by the Congress to ensure reservation of Muslims in government jobs. He said the VHP would be opposing such a move tooth and nail.
Togadia also raked up the issue of the Scheduled Tribe reservation being provided to Christians. He said the VHP also opposed Christians taking benefit from the Scheduled Tribes' reservation provided to Hindu tribals by the Constitution.
Responding to a query, he also described December 6 as a victory day for Hindus for bringing down the Babri mosque. Senior VHP functionaries from Uttarakhand were also present.