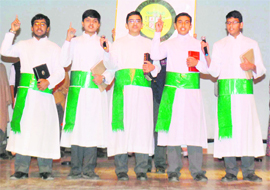 Students give a performance during the founder's day
celebrations of St Joseph's Academy in Dehradun on Wednesday.
Dehradun, February 2
St Joseph's Academy celebrated it founders' day here today. The congregation of Patrician Brothers was founded in 1808 by Bishop Daniel Delany in Tullow, Ireland, with an aim to enlighten youth and work for the welfare of the underprivileged.
To mark the occasion, class IX students put up a special assembly to throw light on the glorious years of the Patrician Brothers and their selfless service to humanity. The chief guest on the occasion was Superior Bro. Sebastian. The programme started with the lighting of the inaugural lamp by Bro. Sebastian and Bro. AJ George.
Gunraj Singh led a devotional prayer, which was followed by a hymn sung by the choir. The students presented a skit on the travails of Bishop Daniel Delany's life and his exemplary service. An Irish dance and a soul stirring song mesmerised the audience.
The assembly ended with an inspiring speech by Principal Bro. AJ George who spoke about the congregation in Ireland and citing the example of Bishop Daniel Delany's life.