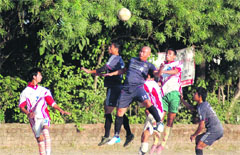 Dehradun, October 22
Eleven Star beat Chanderbani XI by 2-1 in the first quarterfinal match of the Martyr Jaideep Bhandari Memorial Football Tournament being played at Nehru Gram here today.
Siddarath of Chanderbani XI scored the first goal in the 26th minute but Arya of Eleven Star scored the equaliser in the 28th minute and later scored the winning goal to give a 2-1 lead to his team in the 40th minute.
Bajrang XI will take on Sunderwala Boys and Akranata Club will take on Gorkha Rangers in the quarter final matches to be played tomorrow.