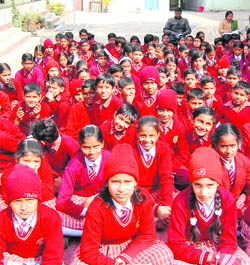 Students listen to experts at an environment awareness event at Mool Chand Shastri Vidyapeeth in Haridwar on Monday.
Haridwar, February 13
To make the younger generation aware of the importance of environment conservation, it is essential to impart them training in this regard at an early age.
This was stated by Ashok Sharma, Principal, Mool Chand Shastri Bal Vidyapeeth, Sati Kund Kankhal, at a debate on the school premises today.
On the occasion, students were apprised of the damage human beings are causing to the environment. He urged students to plant as many saplings.
Through charts, experts informed the students about the ill impact on the nature due to increasing human interference. Later, students were asked to put on canvas their thoughts.
Ritu, a student, said from now she would make sure that lights were switched off when no one was in room and urge her parents and others to use jute or paper bags instead of polythene bags.