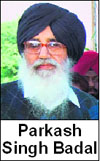 Jalandhar/Chandigarh, November 18
Punjab Chief Minister Parkash Singh Badal today hit back at his Delhi counterpart Sheila Dixit saying that she was deliberately delaying elections to the Delhi Sikh Gurdwara Management Committee (DSGMC). Talking to newsmen at Khiala village near Jalandhar, Badal accused the Delhi Chief Minister of helping DSGMC president Paramjit Singh Sarna whose defeat in the next DSGMC poll was inevitable. He said that as it would have an impact on the Delhi Assembly elections, Sheila wanted to delay elections to the Sikh institution. In a separate statement, the Shiromani Akali Dal (SAD) took a strong note of the remarks of the Delhi Chief Minister asking her Punjab counterpart Parkash Singh Badal to "keep off Delhi gurdwara affairs". The SAD described her reaction as irrational and indicative of the fact that Dixit was not aware of the history of the DSGMC. The SAD said that it was strange that the Congress leader was asking the founding fathers of the DSGMC to become mute spectators to the denigration of the management committee responsible for the maintenance of historic Sikh shrines in the national capital. SAD president Sukhbir Singh Badal said, "Will someone please go and tell her that Sikh affairs are very much a business of the Sikhs, and of the Sikhs alone, and that she or her government should stay away from the internal religious matters of the Sikh community. "Let her instead use her position to ensure better law and order in Delhi. By openly talking about an issue which concerns our shrines, Dixit has only confirmed Parkash Singh Badal's observation that the Congress government in Delhi is indeed interfering in the religious affairs of the Sikhs," he said.
Party spokesman Dr Daljit Singh Cheema reminded the Congress leader that it was in 1970 that the then SAD president Sant Fateh Singh led a 'morcha' in Delhi demanding a similar democratic body on the pattern of the SGPC for the management of Sikh shrines in Delhi.
"Parkash Singh Badal, all his senior colleagues and 16,000 other SAD leaders and workers went to jail in this morcha," added Cheema.
"So the present DSGMC came into being in 1971 as a result of the sacrifices made by the Sant Fateh Singh, Parkash Singh Badal and other SAD workers," he said.