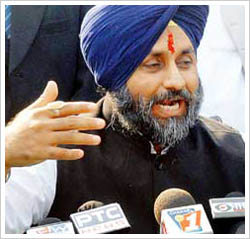 Baba Bakala, August 2
Deputy Chief Minister Sukhbir Badal today charged the Congress-led UPA Government with "blatant discrimination" against Punjab and other non-Congress states by denying them drought relief.
Addressing a rally here to mark Rakhar Punia, Sukhbir said: "The Centre does not appear to be moved by the plight of Punjab farmers and has not awarded a single rupee to the state as drought relief.This is despite Punjab contributing 65 per cent foodgrain to the central pool." He said though the government had already purchased power worth Rs 7,000 crore, which is 10 per cent more than last year's peak demand, the failure of monsoon had raised power consumption in the state.
He refuted allegations of power overdrawal by Punjab, saying the Northern Grid had tripped because of 51 per cent overdrawal by Haryana and 29 per cent overdrawal by UP.
"I salute our enterprising farmers who have put everything at stake to ensure that their crops do not wither away," Sukhbir said.
He said work on three power plants was underway and these would start functioning by the end of 2013. "With new power plants coming up at Goindwal Sahib, Talwandi Sabo and Rajpura, we will get 3,920 MW of extra power which would reduce our dependence on the Centre and make us self-dependant," he claimed.
The Deputy CM said all major cities would be connected with four-lane roads and Rs 13,000 crore would be spent on the road network in the next three years. He said he had directed the SSPs to intensify the police drive against petty crime such as snatching. He said non-performing police officers would face the music.