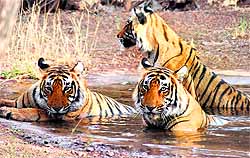 Dehradun, July 25
The Supreme Court's decision to ban tourism in core areas of all tiger reserves in the country could not have come at a more appropriate moment for Corbett National Park, the highest tiger density park in the country. While tourism had taken a giant leap in and around Corbett, boosting the region's economy, it's adverse ramifications on tigers have been a matter of concern among the conservationists.
In his first reactions to the apex court's order, Uttarakhand Principal Chief Conservator of Forests RBS Rawat, while reiterating the Forest Department's commitment towards tiger conservation, said they will await Union Environment and Forests Ministry's directions regarding the Supreme Court order and act in it's accordance. He admitted that banning tourism in the core areas of tiger reserves will serve the large purpose of tiger conservation.
Welcoming the Supreme Court's directive, wildlife conservationist and authority on Corbett Park Hem Singh Gehlot said the Supreme Court's decision has come very timely. He said today tigers in the country and Corbett in particular have suffered the most in the name of eco-tourism. "Take, for example, Corbett; the resorts stand as main culprits. While on the one hand these resorts have blocked the tiger corridors, on the other they flay all norms to create trouble for the region's wildlife, including tigers, by promoting rampant tourist activity inside the reserve," he pointed out.
People for Animals, Uttarakhand, member-secretary Gauri Maulekhi, too, expressed her happiness over the Supreme Court's order. She said a large tourist inflow into the core areas of Corbett Reserve is proving to be detrimental to the tiger population in the reserve.
Echoing similar sentiments, former Uttarakhand Chief Wildlife Warden AS Negi said the Supreme Court decision will certainly relieve the core zone of Corbett of increasing burden of tourists and will be in the interest of the region's wildlife.
While conservationists have taken the Supreme court decision as a matter of rejoicing, former chairman of the State Forest and Environment Advisory Committee Anil Baluni has expressed his concern over the decision, asserting that locals, who are solely dependent on tourism in Corbett as a source of livelihood, will be the ultimate losers.
"About 20,000 people earn their livelihoods through tourism in Corbett, and the latest Supreme Court order will come as a huge setback for them," Baluni pointed out. He said in the backdrop of the Supreme court order, he himself will be taking up the matter legally. Baluni said he would even appeal to the Uttarakhand government to take to legal course over the matter as various large and small entrepreneurs in and around Corbett will be on the verge of losing their jobs after this decision.