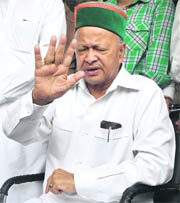 Virbhadra Singh
Union Minster Virbhadra quits as a corruption charges framed by a Shimla Court
New Delhi, June 26
A day after a Shimla court ordered that charges be framed against him in a corruption case, Union minister Virbhadra Singh resigned from the Cabinet today, putting a question mark on his political future in his home state Himachal Pradesh where he is seeking a sixth term as chief minister in the year-end assembly polls.
Virbhadra Singh is the third minister in the UPA II government to have quit on corruption charges, the other two being A Raja and Dayanidhi Maran.
The 78-year-old veteran Congress leader submitted his resignation to Prime Minister Manmohan Singh at his residence this afternoon. "I have resigned on moral grounds. Nobody asked me to quit, but I did not want to embarrass my party, the PM or the government," Virbhadra said after his meeting with the PM. He had also met Congress president Sonia Gandhi last evening. The PM accepted the minister's resignation and forwarded it to President Pratibha Patil shortly after it was submitted.
Congress sources said since Virbhadra had moved the High Court, the party leadership had decided to wait for the judicial process to be completed before taking a view on his resignation. It also did not want any controversy to mar the ongoing Presidential election.
Virbhadra's aides maintained it was the senior leader's personal decision to put in his papers. Since Himachal Pradesh is headed for Assembly polls later this year, the former CM felt it was a better option to pitch his tent there to focus his energies on waging a political battle against the BJP-led government.
The resignation was also meant to take the sting out of the opposition's campaign against the senior Congress leader. Virbhadra has repeatedly refuted the charges framed against him, describing them as "concocted" and a conspiracy by the BJP Chief Minister P K Dhumal who, according to him, "was the biggest liar in Himachal Pradesh." The former CM was also at pains to state that his resignation should not be taken as an admission of guilt. On the contrary, he was preparing to battle it out till the bitter end.
"I have handled several portfolios in the last 50 years but nobody has questioned my integrity," Virbhadra said. Congress leaders admitted the court decision and Virbhadra's Singh's resignation had pushed the party on the defensive on the issue of corruption.