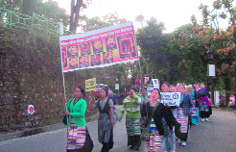 Members of the Tibetan community take out a protest march in Mussoorie on Monday.
Mussoorie, March 26
Tibetans held a rally in Mussoorie today in protest against the visit of Chinese Prime Minister Hu Zin Tao to Delhi. They demanded freedom from the autocratic Chinese regime.
The rally began from Happy Valley, passed through Library Bazaar, Mall Road and Kulri Bazaar before culminating at Gandhi Chowk. The community members were carrying placards reading "Hu Zin Tao go back", "China stop oppression against Tibetan community".
The president of the Regional Tibetan Women's Association, Mussoorie, Kalsang Dolma, with tears in her eyes, said China was bent upon crushing the peaceful movement for freedom of Tibet through violent means. It was continuing with its repressive policy against the Tibetans much to the disgust of the community living in exile world over.
She demanded that China should "give them back their country". She also appealed to India and the international community to support their just cause in the United Nations.
As soon as the news about a Tibetan protester attempting self-immolation in New Delhi reached Mussoorie the local administration became alert fearing the repeat of a similar incident. However, the Tibetans here clarified that no member of the community would indulge in such an act in Mussoorie.