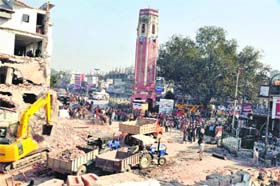 The demolition of the shops continued on the second
consecutive day on the Chakrata road in
Dehradun on Monday.
Dehradun, December 19
The second day of the demolition operation on the Chakrata road remained confined to dismantling portions of high-rise building of Digvijay Cinema. The portion of the Hanuman temple hall, which was to be broken, was demarcated.
The shopkeepers of the next 50-metre portion of the total 360 metre stretch began vacating their shops today for the next stage of the operation. The shopkeepers of this slot remained confused about the allotment letters regarding shops to be given in the new shopping complex. Some of them went to meet Vice-Chairman, Mussoorie-Dehradun Development Authority (MDDA) BVRC Purushottam who did not give much clarification about the letters.
It was in the evening that the owners of two shops created ruckus over the allotment. The owner of the Sethi Snack Shop expressed reservation on the given first allotment to Ashok Goyal, owner of the Canara Bank building, alleging that their shop came first in the sequence and they should have been allotted the front shop in the new shopping complex. Purushottam, who was present there, could not pacify the aggrieved party and left the place.
Shashikant Goyal, a prominent trader on the Chakrata road, remarked that it was odd that on one hand MDDA officials showed enthusiasm in dismantling the shops and on the other it had cold feet in giving allotment letters to the traders.
The first lot of 16 shopkeepers was given away the allotment letters a day before the demolition drive began on Sunday. The confusion over the second lot led to fury among the shopkeepers. They were also incensed about not getting any concession for the losses to their business till the time they got new shops. Sunil Verma, a shopkeeper said, "The electricity connection has been snapped in the shops situated on the Chakrata road. Our business has nose-dived for which we are not being compensated. The loss may accumulate if the entire operation is dragged on for more days." Long jams on the roads around Chakrata were witnessed throughout the day. The routes were diverted to the Garhi Cantt, Prince Chowk, Saharanpur and Kanwali Road.