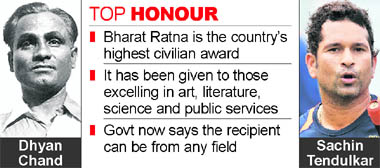 New Delhi, December 16
The government has modified the eligibility criteria for the Bharat Ratna paving the way for sportspersons such as hockey legend Dhyan Chand and cricket icon Sachin Tendulkar to be conferred the country's highest civilian award.
The new rules, providing for eligibility of persons excelling in fields other than art, literature, science and public services for the Bharat Ratna, were notified on November 16, Sports Minister Ajay Maken told reporters here on Friday.
"I wrote a letter to the Home Minister on April 15. The Prime Minister and the Home Minister have very kindly agreed to change the norms. Now, the government has notified that for performance of highest order in any field of human endeavour Bharat Ratna could be awarded," Maken said. He said the decision has paved the way for any sportsperson to get top award. The move comes amid clamour for giving the honour to Tendulkar for his outstanding contribution to cricket.
"For me as a Sports Minister, this is one of the biggest days for Indian sports and next biggest day I think will be the day when some sportsperson will be awarded the Bharat Ratna," Maken further said.
Maken said Dhyan Chand and Tendulkar were the top contenders for the award.
"Both of them I think should be the top contenders. Ultimately, the decision has to be taken by the Prime Minister. The Prime Minister takes the decision and recommends it to the President," he said.
The Bharat Ratna was instituted in 1954. Any person without distinction of race, occupation, position or sex is eligible for this award.
The number of annual awards is restricted to a maximum of three in a particular year. On conferment of the award, the recipient receives a Sanad (certificate) signed by the President and a medallion. So far, 41 people have got this award. The first three Indians, who received the prestigious award, were Chandrasekhara Venkata Raman, Chakravarti Rajagopalachari and Sarvapali Radhakrishnan in 1954.
There is no written provision that the award should be given to Indian citizens only. The award has been conferred on a naturalised Indian citizen Mother Teresa (1980) and to two non-Indians - Khan Abdul Ghaffar Khan and Nelson Mandela (1990). Pandit Bhimsen Joshi was its last recipient.